Find Out About the Latest Research,
Coping with Treatment and Beyond, Your Legal Rights or How to Pay For It All.
Our programs are currently being held virtually via Zoom due to COVID-19. 
Hope Connections strives to bring presenters/speakers who are experts in their field to share their knowledge and expertise. Hope Connections does not endorse any presenter/speaker outside of their presentation.
Registration required to attend a program. Current participants can register online here.

If you're new to Hope Connections

email us at info@hopeconnectionsforcancer.org

to register.

Look below to see where the program is physically meeting. 

You can join most groups virtually. We are One Hope Connections and we want to be convenient no matter where you live.

All Education programs are for those age 18 and over.
Upcoming Programs:
Hot Topics for Young Adults: I Swear You Aren't Crazy: Impacts of a Young Adult
Wednesday, October 13, from 6:30-7:30 pm via Zoom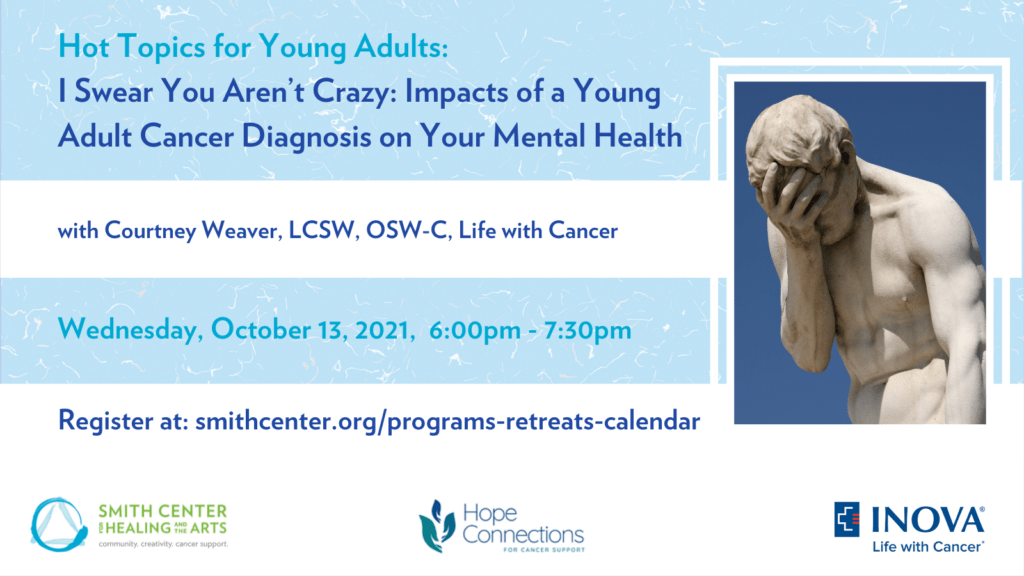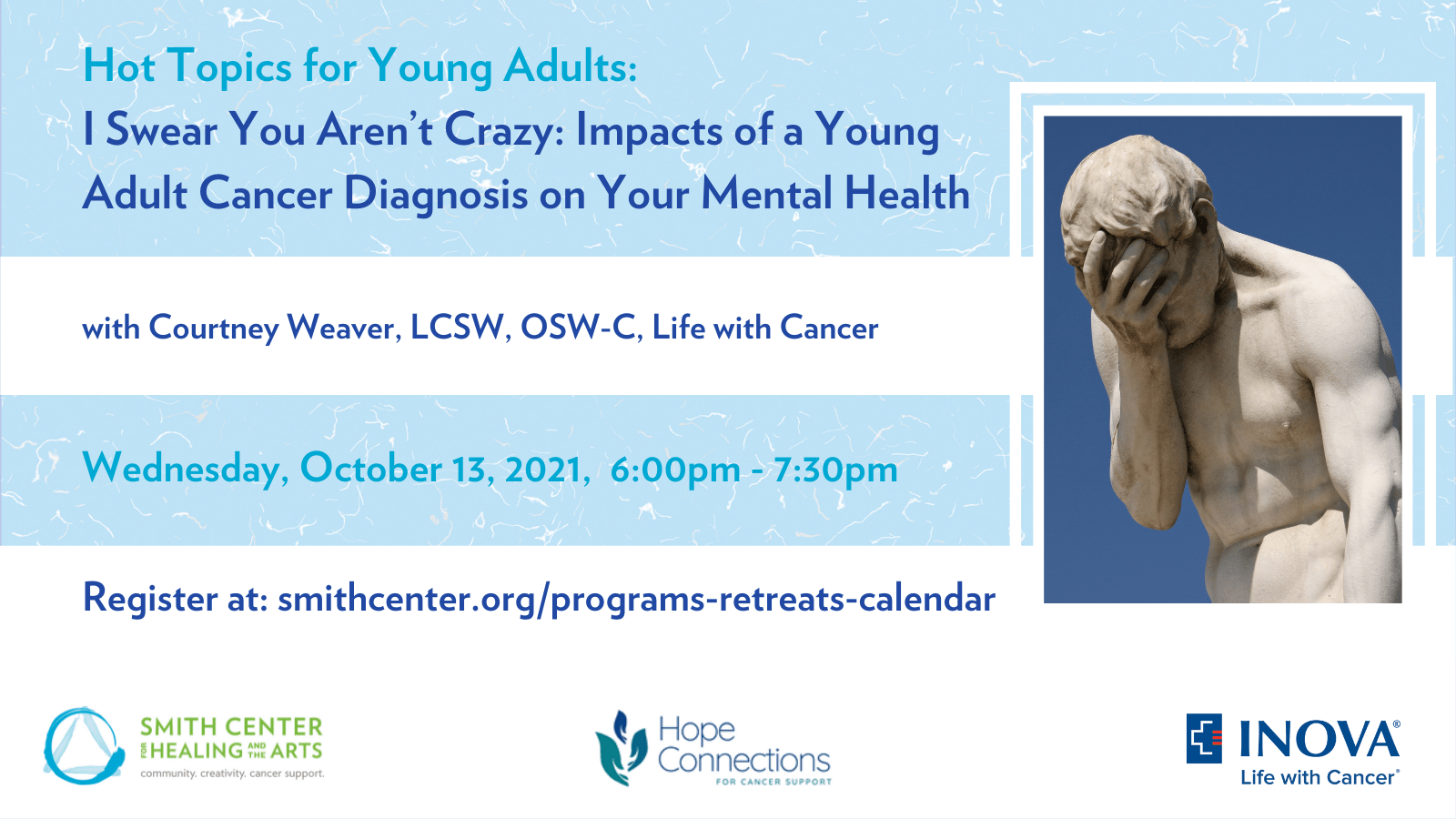 Receiving a cancer diagnosis at any age is a shock to the system. But for a young adult, it is even more unexpected, traumatic, and often finds us stumbling in the dark. Explore the impact that a cancer diagnosis, treatment, and survivorship has on young adults.
We will also review the unique barriers to the young adult cancer population, what's "normal," and when to ask for help. Learn some basic coping strategies for dealing with life when it feels like you are struggling just to tread water every day.
Facilitated by Oncology Certified Social Worker, Courtney Weaver, LSCW. This program is in partnership with Life with Cancer and Smith Center for Healing and the Arts.
Registration is through the Smith Center's calendar page.
Cancer Related Fatigue
Monday, October 18, from 6:30-7:30 pm via Zoom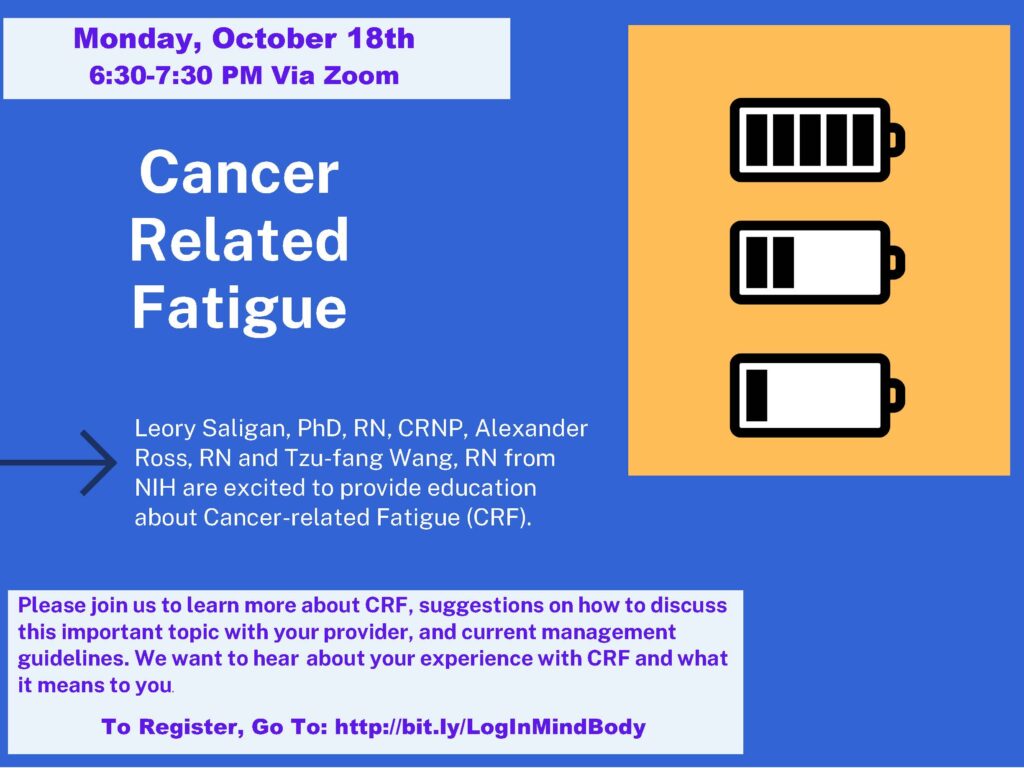 Leroy Saligan, Ph.D., RN, CRNP, Alexander Ross, RN, and Tzu-fang Wang, RN from NIH are excited to provide education about Cancer-related Fatigue (CRF). Please join us to learn more about CRF, suggestions on how to discuss this important topic with your provider, and current management guidelines. We want to hear about your experience with CRF and what it means to you.
Breast Cancer and Genetics
Wednesday, October 20, from 6:30-7:30 pm via Zoom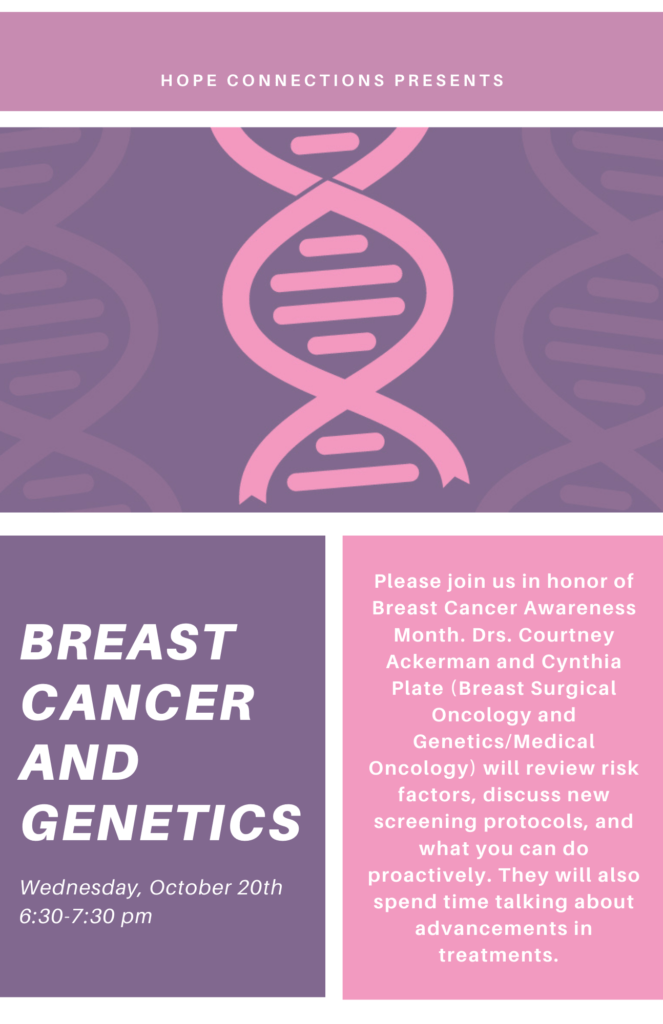 Please join us in honor of Breast Cancer Awareness Month. Drs. Courtney Ackerman and Cynthia Plate (Breast Surgical
Oncology and Genetics/Medical Oncology) will review risk factors, discuss new screening protocols, and what you can do proactively. They will also spend time
talking about advancements in treatments.
Looking for More Groups or Other Activities?
For a PDF of our program calendar, Click here.