From day one Hope Connections has been there to help people with cancer actively participate in their fight for recovery.
We accomplish this by offering free, professionally-facilitated programs of emotional support, education, wellness and hope.
This is our story.
---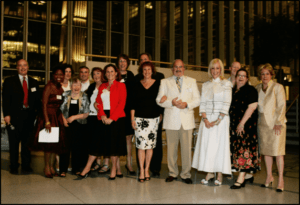 Hope Connections' Beginnings
From the beginning, we have benefitted from the wisdom and passion of people whose lives have been touched by cancer. We were founded by Bernie and Bonnie Kogod, who started the Michele Susan Kogod Fund to honor the daughter they had lost to cancer.
Paula Rothenberg joined as our founding President and CEO in 2004. Their joint vision was to create a place where people affected by cancer could come together as a community to connect with and support each other. A like-minded Founding Board of survivors, caregivers, and community raised the funds necessary to open and sustain the organization.
Hope Connections opened in March 2007 in Bethesda, Maryland as The Wellness Community – Greater Washington, DC. In July 2011, the organization changed its name to Hope Connections for Cancer Support to better communicate the mission. The organization has always provided a homelike setting for its programs. In April 2013, Hope Connections moved to the Beaumont House, a manor house at FASEB.
Hope Connections Today
Today, Hope Connections continues to be governed by an active and committed Board of Directors and is led by Mary K. McCusker, who succeeded Paula Rothenberg in 2018. The organization also has a 23-member Medical Advisory Committee, comprising oncologists and other medical professionals from local hospitals and private practice, who inform our evidence-based approach to emotionally supporting people on their cancer journeys.
As part of its master plan to make its free programs available to more people in need, Hope Connections opened a satellite facility in Prince George's County in Landover, MD. And in 2020, we purchased the Grosvenor Mansion at 10100 Laureate Way. We moved our offices to this site in June 2020 and plan to offer our full range of programming beginning in 2021. Grosvenor Mansion provides the same calm, gracious atmosphere that Beaumont House afforded, with ample room for all our programs.

Looking Towards the Future
We continue to explore active partnership with local hospitals and providers in order to integrate clinical care and emotional support. We grow every year by around 10% and serve thousands of people in the Greater DC area.